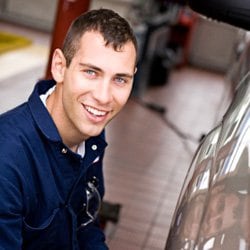 Visit Our Ford Parts Center in Chesaning Today
When you own a Ford model, it's important to maintain the vehicle to ensure it can continue to operate well without any issues. Our parts center at Mel Ervin Ford is reputable and is established in the industry due to our history in the Ithaca area. We work hard to meet your needs to ensure you can continue to have a reliable mode of transportation.
Whether you need new brakes or headlights, we have a large inventory of items that are always in stock. You can get the repairs or maintenance you need in a timely manner without delays. Our friendly team will listen to your needs to ensure we can provide you with the right parts around Wheeler and restore the quality of your Ford vehicle.
We carry quality parts that are designed to work in your Ford model to avoid potential issues that can occur. Our team is happy to assist you and will work hard to ensure you get what you need. Our extensive inventory of parts means that you have more options with what you request to ensure you don't have to shop around at different dealerships or businesses near Henderson to find what you need. Our one-stop-shop makes it easy to obtain the specific parts you're looking for quickly and easily.
Our Chesaning team stands behind the quality of the parts we offer and is proud to assist you, whether you need minor or major parts for your set of wheels. We have your best interests at heart and will do what it takes to help you from start to finish. You can rely on our professionals to guide you in the right direction, which is sure to make it a smooth process. We hope you'll continue to visit us at Mel Ervin Ford when you need quality OEM parts for your new Ford.